Are you a business owner? 

Do you wonder if there is a way to identify mistakes and missed opportunities that are costing you a fortune?

Or if there are ways shift income to legally create tens or even hundreds of thousands of dollars in tax savings?
David Block, EA, CTC™, CFP® is a member of the American Institute of Certified Tax Planners (AICTP). David creates tax plans for business owners that can potentially save hundreds of thousands of dollars over the coming years, all footnoted and annotated, with a 100% satisfaction guarantee. Ask David for details.
David is a Registered Representative with Innovation Partners, llc (IPL). Securities offered through IPL, member FINRA/SIPC, a registered Broker Dealer. Securities and certain insurance products are offered through INVEST and affiliated insurance agencies. IPL does not provide tax or legal advice. IPL is not affiliated with Taxmaster Financial Services.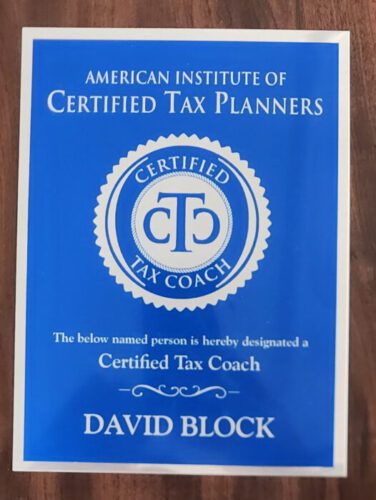 If you would like to know how we can possibly save your company tens or hundreds of thousands of dollars  through comprehensive tax planning, please call us at 212-247-9090.